With Easter approaching, you may be struggling to find a unique gift. Our Celtic Crosses are rich with history that stretches back over a thousand years.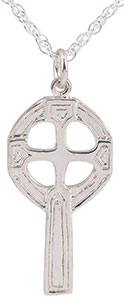 The Celtic Cross Pendant is inspired by the stone Celtic crosses found in many parts of Wales, dating from the early days of Christianity in Britain.
Muiredach's Cross of Monasterboice is an outstanding example of later period Celtic crosses, with full ornamentation on both front and back and on the sides. This small cross is a finely detailed reproduction, including edge ornamentation.
Our Trinity Cross Necklet has triskeles incised in each arm, symbolizing the Trinity in an ancient Celtic style.
LEARN MORE ABOUT: