Stan Morse, a local customer, came into our store here in Bothell, Washington. He surprised us with the news that our Slouch is featured in his new Kindle novel.
It is the summer of 1969 and the Vietnam War is raging, John Wayne dominates the theater marquee, and fourteen year old Billy Ward's world will crumble if he can't convince his eighteen year old brother Mike and Mike's best friend Stu to include him in a backpacking adventure. For the older boys, taking The Kid into the mountains is a burden to be avoided at all costs. Parental pressure finally forces them to offer Billy a test to see if he is worthy. Can Billy prove himself physically capable? And beyond that, how can he hope to earn the respect of the older boys?

Brothers of Summer is a window into the hearts of teenagers in the 60's—a time when kids rode bikes, boys got drafted, parental abuse was often ignored, and the bonds of friendship between teenagers were more important than nearly anything imaginable.
   You can get his book here.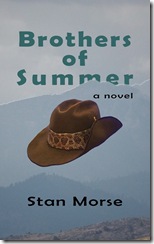 We wish Stan the best of luck with his novel!