After a long and hard winter for much of the country, the appearance of brightly colored tulips are a welcome sign of warmer weather.  In Western Washington, the Skagit Valley Tulip Festival is ready to begin.  A week early, the flowers should bloom the last week in March.  David Morgan is pleased to offer a selection of tulip jewelry handcrafted especially for the festival by Warren Jewelers in Kirkland, Washington.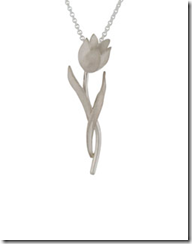 One of the finest pink tulips, this late blooming Pink Diamond variety is grown in the Skagit valley. The tulip is portrayed here in full bloom with open petals. The leaves and flower are sandblasted for a textured finish.  Also available as earrings.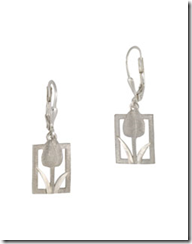 The Dutch city of Delft created magnificent artwork from the 16th to the 18th century. Like one of their famous tiles, this piece captures the tulip's graceful beauty. All but the leaves of this piece has a sandblasted finish.  Also available as a necklet.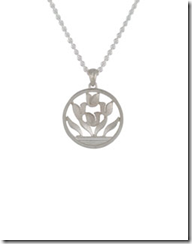 The tulips portrayed in this sterling silver necklet grow in Washington's Skagit Valley. The flowers are sandblasted with a polished border.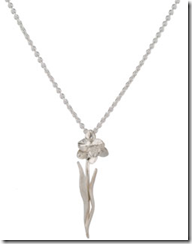 Warren Jewelers has also created several Tenby daffodil pieces as part of its flower jewelry collection.  The Tenby daffodil is native to Pembrokeshire, Wales and blooms around March 1, St. David's Day.
LEARN MORE ABOUT: