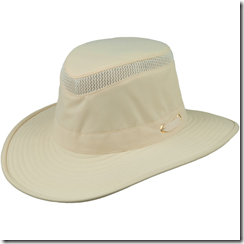 After this year's long winter, we're all ready to make the most out of summer. But amidst the picnics, camping and golf, we can't forget to protect our heads.
Tilley's Airflo fits the bill. It weighs a mere four ounces and offers excellent skin protection with a UPF rating of 50+. UPF stands for Ultraviolet Protection Factor and unlike SPF (Sunlight Protection Factor), the rating includes standards for both Ultraviolet A and Ultraviolet B waves.
The crown contains a polyester mesh for ventilation. Tilley fabricates the sweatband with Hydrofil®, a modern fabric that keeps sweat away from your skin. The hat's body is composed of Nylamtium®, a nylon that resists water and mildew.
The stitched brim is 3-1/2 inches on the front and back and 2-1/2 inches on the sides. You can use the adjustable ties for windy days. The Velcro closure on the small pocket in the crown safely holds a key, card, or cash.
Machine wash, air dry. Colors: Natural (with a green under-brim) or Khaki (with an olive under-brim). Made in Canada by Tilley Endurables.
LEARN MORE ABOUT: