We prepare our hats so that they are protected during shipping, but sometimes the parcel can be improperly handled. When this occurs, our felt hats may receive packing marks. These will appear as white marks on the brim, next to the crown. It is very easy to fix this problem. Often a brush will remove the marks. If not, the next alternative is to use a light dusting of steam.
When steaming a hat, it's best to use a tea kettle. The spout at the top of the kettle makes a perfect channel for the steam. In fact, most hat steamers are just glorified tea kettles. If you don't have a tea kettle, a pot of boiling water will also work. Just make sure that you keep your hands clear of the hot steam!
Follow the simple instructions below, and you'll have your hat free of packing marks in less than 30 seconds.
There is also a video on YouTube that you can watch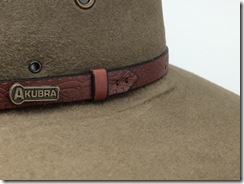 Packing marks (over exaggerated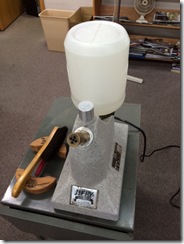 A steamer. But a tea kettle works just as well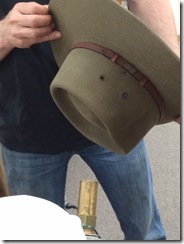 Applying steam. Note the distance. Do not put the steam directly on the hat. 6-8 inches is a good distance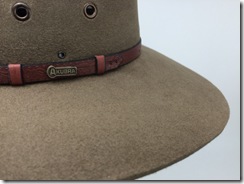 The finished product. Total time, 15 seconds.