Cutting Kangaroo Skins for Solid Work
We supply both kangaroo skins and lace. The skins we sell, and the skins we use for our lace, are all the best quality vegetable tanned kangaroo. The strength of this leather is about four times that of the equivalent cowhide. The information provided below is intended as a basic guide for cutting kangaroo skins for solid work.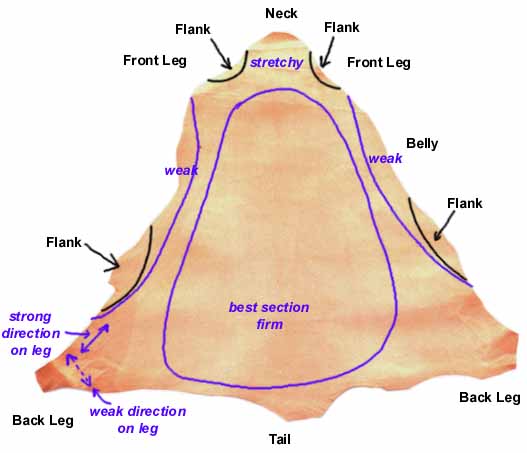 Kangaroo leather is one of the strongest leathers available. As with most natural materials, kangaroo hides vary, both from hide to hide, and within the hide itself. A basic understanding of the hide, and how best to utilize it, will greatly enhance the quality of the final products.
1. Flanks and belly are usually scarred with tick marks.
2. The tail end of the skin is firmer than the neck end and often somewhat thicker than the neck end.
3. There is no line of weakness along the backbone, as in cowhide, but the center of the back may have scars from barbed wire where the kangaroo has gone through fences.
4. Hard scars are new and weak. Flexible scars are fully healed and will usually be 80-90% of the original skin strength.
Size of Skins
Skins are measured in square decimeters (dm2). 10 square decimeters equal 1.076 square feet.
50 dm2 skins are about 30 inches from neck to tail.
60 dm2 skins are about 36 inches from neck to tail.
70 dm2 skins are about 40 inches from neck to tail.
Utilization of the skin will depend on the project needs and skill of the cutter, as well as the characteristics of the individual skin. As a general rule of thumb assume 50% will be prime, with minimum stretch and even thickness, 40% good, and 10% waste. We offer the following skins:

Light Skins (under about 0.8 mm thick, 45-80 dm2) -- Natural, drum stuffed; Black, drum stuffed

Medium Skins (about 0.8 mm thick, 55 - 85 dm2) -- Natural, drum stuffed; Black, drum stuffed

Heavy Skins (about 1.0 mm thick, 55 - 85 dm2) -- Natural, drum stuffed; Black, drum stuffed
For more information ...
Please follow the links below for more information concerning our kangaroo hides and braiding supplies.

Braiding Supplies


Kangaroo Hides


Cutting Kangaroo Hides for Braided Work


Comparative Characteristics of Kangaroo Leather