The Fram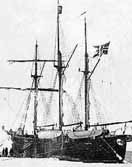 The Norwegian polar vessel Fram ("forward" in Norwegian), was launched
in 1892 and, like the Devold sweaters, is inseparably linked to some of the
most significant achievements in Norwegian and international polar history.
The Fram was designed by Norwegian explorer Fridtjof Nansen to: "…
build a vessel as small and as strong as possible … which will bear up
under pressure from the ice and which will be lifted up instead of being pushed
down by the screwing action of the ice."
The 400 ton Fram nobly met these requirements in three major polar expeditions: Nansen's arctic expedition of 1893-1896 where he proved his theory of a westward ice flow, and traveled further north than any previous explorer; Otto Sverdrup's 1898-1902 arctic expedition, surveying 200,000 square kilometers near Ellesmere Island; and Amundsen's 1910-1912 antarctic expedition, where, after dropping off Amundsen for his successful trek to the South Pole, other expedition members explored the Antarctic ocean, and sailed farther south than anyone had done before. Thus the Fram became the ship that had sailed the furthest north and the furthest south, covering a distance of 54,000 nautical miles.
Today, the Fram can be visited in its own museum in Oslo, Norway. Lying in the corner of the cabin you will see Amundsen's Islender
sweater, looking as if a good washing would make it like new.
For more information …
For more information about Devold and related items please follow the links below.

Devold Woolens


Discover the Warmth of Wool


www.devold.com  — Devold's own website