Working at David Morgan is really fun when we can put people together to solve problems and preserve history.
Because of my father's work in the field of whips — which included writing the book Whips and Whipmaking — I occasionally field general queries regarding whips.
A few weeks ago I took a call from a Mr. Patt Patterson of Missouri who asked me if I knew anything about stage coach whips. He was writing a book on them.  I told him no, nothing past what was in my father's book. I offered to check David's list of whips, I checked and found Dad had a couple of stage coach whips in his collection so I said I'd clean them up for him and send him photographs.
A few days later I took a call from Jimmy Wilson in Texas who was looking for someone to clean up and put new falls on his wife's whips. His wife had been a Wild West arts performer in the fifties and sixties. Jimmy mentioned that, by the way, he ran a business building stagecoaches, see J Wilson Stage Coaches.
I introduced Patt and Jimmy by email and Patt is now busy fixing up the whips and has gained a friend in the world of stage coaches.
After receiving the performer whips, Patt mentioned that some of the whips were made by the J.M. Bucheimer Co.  I found a Bucheimer catalog or three in David's files that dated from the mid-sixties, when they were in Frederick Maryland. Included with the catalogs was correspondence from David where he mentioned that he was interested in buying the Drovers and Performers whips.  He then bought a couple and responded they were advertised as 12 plait but arrived as 10 plait.  Later Bucheimer catalogs described the whips as 10 plait.  In 1967 the performer whips cost from $10.60 to $31.00 depending on their length, with extra long lengths available on special request.
The stage coach whips in David's collection were labeled and measure as follows: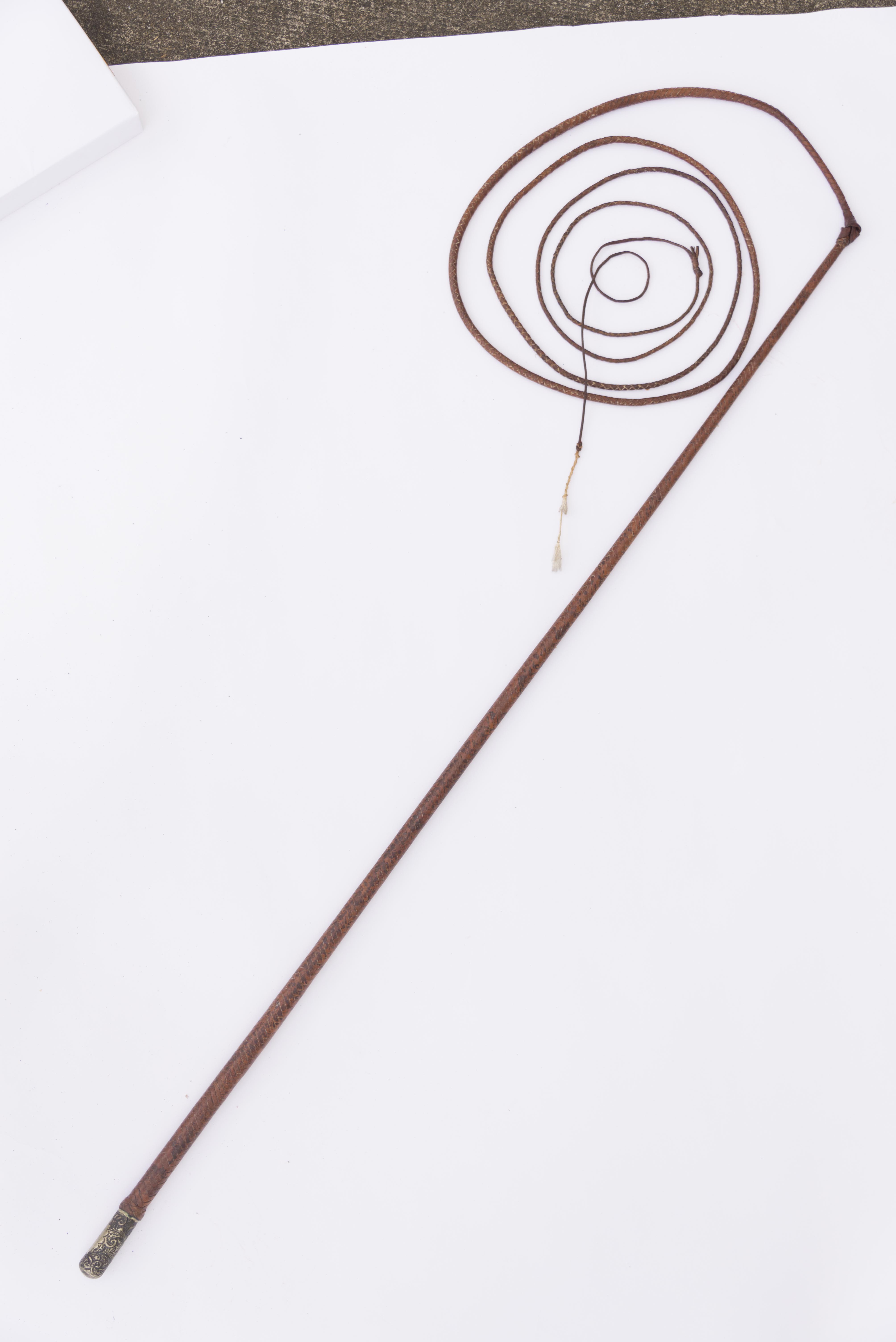 No. 94 Stagecoach Whip, Bert Hill, 1960s.  He had made coach whips for Cobb & Co.  11′ thong 6 plait dropped to 4. 12 plait. Covered handle is about 54″.
( see https://en.wikipedia.org/wiki/Cobb_%26_Co  )
No. 95 Stagecoach Whip Bert Hill, 1960s.  9′ thong 6 plait dropped to 4. 12 plait covered handle is about 53″. (No photo.)
No. 98
Useless Thong by DWM on a Lungewhip handle by Millowick. Thong lacks weight in the belly. Handle is a bit under 50 inches.
It appears David had made an attempt at copying the stagecoach whip thong and failed.  Thankfully David kept on trying his hand making hundreds of functional whips albeit not for stagecoaches.
Our best wishes to Patt and Jimmy's respective and collective endeavors!
Will Morgan
Enjoy a few more photos below: