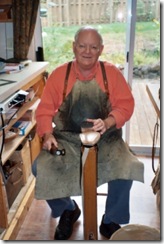 Note: We regret to announce that Philip passed away in August, 2019. 
Phillip Hawk has 40 years experience as an expert saddler and shoemaker.  After a three year apprenticeship as a saddler in Colorado, he moved to to Virginia to study English saddles, strap goods and shoe-making.  He was master of the Saddle/Harness Shop and the Boot/Shoe Shop of Colonial Williamsburg.  His skills include every facet of leather working except gloves and clothing.  His work marries traditional craftsmanship with modern consumer demands.
For his belts, Phillip only uses leather from the Tarnsjo Tannery in Tarnsjo, Sweden.  It supplies, arguably, the finest strap and upholstery leather in the world.  The world's best saddlers, harness makers and fashion designers purchase their leather from this tannery.  Phillip uses leather stained only on the grain (the hair side), leaving the flesh side unstained to prevent bleeding on clothes.  The surface colors used by Tarnsjo Tannery maintain the integrity of the leather.
Below are just a few of the procedures in making a belt.
Phillip first cuts the leather into strips.  The tool is a draw gauge knife.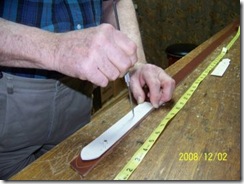 Laying out the belt blank.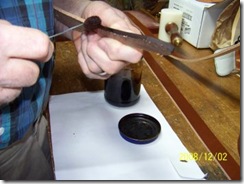 Staining the edges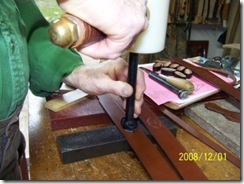 Stamping with his maker's mark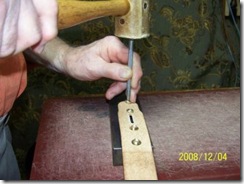 Mounting the snaps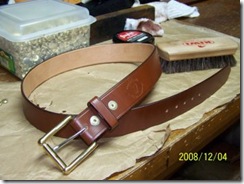 Ready to wear!
LEARN MORE ABOUT: