If you need a hat for summer, but are worried that a fur felt is too much for the heat, you can always try a straw hat. Another alternative is to go with a Tilley.
Tilley started in 1980 when Alex Tilley needed a good hat for sailing and couldn't find one. He decided to make one himself. Sparing no effort, he sought advice from a milliner, sailmaker and hat maker, and, as he says, "got it right". Only afterwards, when he saw that he had an outstanding hat, did he decide to sell it through stores.
There are two summer hats from Tilley that you can enjoy. Both are light and comfortable, pack easily and provide good sun protection.
The Airflo is vented. It is made from Nylamtium® fabric, a strong water-and-mildew resistant nylon that provides lightweight protection from the sun. The polyester mesh incorporated in the crown is a distinctive feature and allows air circulation.
Tilley's Hemp Hat is more rugged, but will also provide proper sun protection.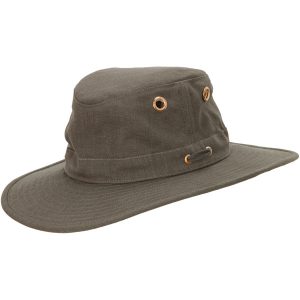 LEARN MORE ABOUT: