Seattle experienced a tremendous windstorm on Saturday. The Seattle area felt speeds up to 60 mph. Not something we're used to around here!
The storm knocked out power for half a million homes for many on Saturday and Sunday. Some were still out of power on Monday.
In the park where we work, several trees were knocked down. With the extremely dry summer and branches still heavy with leaves, the wind was able to knock over trees thirty feet high.
Here is a typical tree that fell over: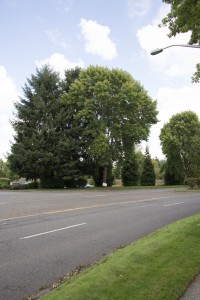 By midweek, the trees had already been cut up, so all that remains are the stumps and the pushed up dirt.