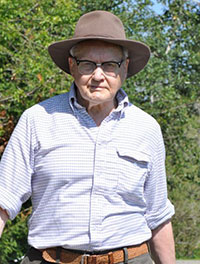 David Morgan of Woodinville, WA died July 8, 2015. Born May 21, 1925 in Vancouver, Canada, David is survived by his wife of 62 years, Dorothy, their four children (Olwen (Robert Ruggeri); Barbara (Chip Zukoski); Meredith (Ed Orton) and Will), six grandchildren and one great grandchild.

David was a metallurgist by training and an entrepreneur by nature. He and Dorothy founded Austral Enterprises in 1962, which continues to this day as David Morgan, LLC.

David was kind, helpful, gregarious, generous, and an excellent problem-solver. He will be missed. The family wishes to express gratitude to Lawrence and Michelle's Adult Family Home for the loving care they provided.

Services will be private. In lieu of flowers or contributions please do something kind or helpful in David's name.
David W Morgan, co-founder of David Morgan LLC, died on July 8, 2015 at 90 years of age.
David was born and raised in Vancouver, British Columbia. After receiving BSc and MASc degrees from the University of British Columbia, he moved to Ottawa to work for the Canadian Bureau of Mines. After two years there, David was awarded a bursary by the British Iron and Steel Research Association (BISRA) to study at Imperial College, London, from which he received a PhD in Physical Chemistry in 1952. While in London, he met his future wife, Dorothy Erickson. Dorothy, born and raised in Sydney, Australia, had come to London to work (and see the world) after World War II. David and Dorothy moved first to Canada then the United States, with employment at the Bureau of Mines, Kaiser Aluminum and the University of Washington, with stops in Ottawa, Spokane, Tacoma, New Orleans, Palo Alto and Seattle.
Interests and hobbies changed over the years, but David always followed them with passion. While in Louisiana, David noticed a turtle crossing the road. A few days later he noticed another turtle, and that it was different from the first. His curiosity was piqued, eventually resulting in a collection of 60 turtles and tortoises, a caiman, an alligator and a crocodile, all well cared for in the family basement. A trip to Australia led to the transfer of David's reptiles to the Vancouver Aquarium. David was then instrumental in arranging the aquarium's first acquisition of an Australian Lung Fish.
During the family trip to Australia in 1962, David discovered a whip making enterprise still operating as it had been during Victorian times. An engineer by training and vocation, and with a long interest in craftwork, he carried this interest back to the US. He and Dorothy imported a few whips for sale under the company name of Austral Enterprises. Our company name was changed to David Morgan in 1978, and to David Morgan LLC in 2014 when Will and Barbara Morgan formally acquired an interest.
Operated initially as a hobby while David pursued a career as a consulting metallurgist, we added Akubra hats, Australia's top selling fur-felt hats, in 1965. A classic small family business, David and Dorothy operated out of the home. In the early days, hobby, business and family often intersected – ringside seats at the circus, provided by the lion and elephant trainers who purchased our whips and camping trips through Eastern Washington, stopping at saddleries and tack stores en route.
As David and Dorothy's young family grew, each child contributed, first lacing dog boot sets (at $.02 per set!) and later braiding. It was all hands on deck during the years we sold the Akubra Slouch Hat to Eddie Bauer (who called it the "Digger Hat"),  unpacking the boxes shipped by sea from Australia, brushing each hat, adding the puggaree and chin strap before shipping out.After too many customers had beaten a pathway to their home at inconvenient times, David and Dorothy opened their first warehouse and store, moving from a hobby to the full-fledged business it is today. For many years the business was located in Ballard, moving to our current location in Bothell in the 1980's where we were one of the first occupants in the then-new business park.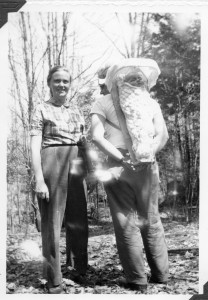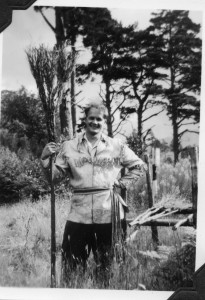 David's interest in leather, leatherwork and craftsmanship predates Austral Entreprises. While living in Ottawa, he tanned a deerskin, then fashioned his own jacket which he proudly wore with an Assumption sash he wove, shown above with a fire broom he crafted. When his eldest child Olwen arrived, David built a cradleboard similar to those used by many Native American tribes. David, Dorothy and Olwen went bathless for a week, as the headboard wood soaked in the tub so that it could be bent to the correct shape. David's understanding of many crafts was deep. Before the time of Google, David was the go to source for answers about any number of craft related topics — Slate production in Wales, thatched roofs in England, ivory and jade carving, basket weaving and hat manufacturing to name just a few. David was a skilled carpenter, making beds, bureaus and bookshelves for his home, as well as custom computer desks for work which we are still using 30 years later.
Photography is one example of how David's interests and skills intersected. As a consulting metallurgist, he needed to document various cracks, flaws and breaks in metallic objects in such a way that non-experts could understand. After the studio he used closed, he found it very difficult to communicate to other studios in Seattle exactly what needed to be shown in each print. He met this challenge by teaching himself how to develop and print his own photos. These skills were carried over to our business, where David for many years took almost all the photos. The switch to digital photography in later years freed up the women's bathroom which had served double duty as David's dark room. Although the family and friends used as models were most definitely not professional models, David's attention to the salient details ensured our customers knew what they were buying. Almost all our photos are still produced in house, with first Mike Saltarelli then Will Morgan taking over from David.
Growth of the business has always reflected David's interests. David's mother could trace her ancestry back to 1066 when Hartlepool, England was founded. David's father's family had emigrated to Hartlepool from South Wales and David identified strongly with his Welsh ancestry. While in London working on his doctorate, David took Welsh lessons every Monday night. He enjoyed visiting Wales in later years, continued teaching himself Welsh and supporting the Welsh independence movement. He was an active member of the Puget Sound Welsh Association for many years. Starting in the early 1970's, when Scottish and Irish goods were readily available in the US, David Morgan was the first to offer a selection of Welsh goods including books,  music (vinyl records, then cassette tapes, then CDs),  Celtic jewelry and Welsh woolens. An example of the crossroads between David's practical outlook and engineering training and the company is the joy he took in offering items such as the Welsh Steelworker's Vest, a shirt with large holes under the arms. To quote from David's description of this vest in the 1976 catalog:
"A special vest, or undershirt, is made of 100% wool flannel for the Welsh steelworkers. This vest was developed from the traditional flannel vest to meet the rigorous needs of the steelworker facing the blazing heat of the furnace, with cold wind on his back, alternately sweating in the heat and chilled by the cold. The sleeves are loose for comfort. The back tail is longer than the front, to help it stay in place during hard work. Sleeve and body seams are kept unjoined for 2-1/2 inches at the armpit. The resulting large open gusset provides unusual ventilation, reduced bulk, and freedom from stress."
As the business grew, so did David's interest in braiding and leatherwork. During the 1960's, he made several visits to Australia where he learned the leather and braiding trade from some of Australia's top whipmakers. Along with the details of whipmaking they taught him the history behind whips and their uses. By the early 1970s the business had expanded to include braiding supplies and braided goods manufactured in David Morgan's own leather workshop.
In 1973, the US placed an embargo on kangaroo skins and products, effectively stopping the supply of Australian whips and braided goods to the US. David decided to keep the trade going by crafting whips from domestic calf skin (kip). He produced an American style bull whip using an Australian braided belly construction. This whip style, the 450 Series, proved popular among stuntmen and performers and was used in the Indiana Jones movies. Once the embargo on kangaroo products was lifted in 1981, David switched to crafting these whips from the stronger kangaroo leather and the company renewed the importation of Australian leather goods. David shared his knowledge through his three books:  Whips and Whipmaking, Braiding Fine Leather and Whips of the West.
The Indiana Jones movies were the catalyst for revitalizing an interest in whips. David's No 455 10 ft Bullwhip  became an icon when it was so skillfully woven into the story by Glenn Randall Jr, the stunt director for the first movie. It became a recognized part of the Indiana Jones character, and an ongoing factor in maintaining the suspense of the story. Whip shows, the sport of whip cracking and an interest in whips and leather braiding made a comeback, in large part due to David's work – his braiding, his books and his willingness to personally  teach and guide many others who have gone on to pursue braiding and leatherwork.
We supplied over 30 whips to the studio for the four Indiana Jones movies. The resulting publicity brought in more orders than we could easily handle. Even when we had a two to three year backlog of orders, David was adamant that we not increase the price unduly as he wanted those customers who appreciated the craftsmanship to enjoy the whips, not just the rich. Instead, he focused on continuing to produce quality whips and training the next generation of braiders. We are still producing these whips to David's specifications and quality, with long time employee Meagan, grandson Alex and son Will all contributing to the effort.
David and Dorothy were always quick to adopt new technology that could help the business. The customer mailing list was computerized early on when personal computers first became available, using  a CP/M operating system and 8" floppy disks. Our company was one of the first to offer online shopping in 1993. We have had a robust website ever since, with just a few exceptions. When the History Channel aired an "Extreme Marksman" segment about David and his whipmaking, our site was overwhelmed with the ensuing response!
David did not always follow his own advice. "Time is money" he would say, instructing us in how to braid efficiently. That advice fell by the wayside many times when he was helping store customers or answering the phone. It did not matter whether the customer bought nothing or a lot, David was willing to talk, discussing in depth the products we sell, the advantages of wearing hats to prevent skin cancer, or Welsh politics. He was generous with his time with customers interested in braiding and his whips, quite willing to demonstrate how to crack a whip inside our store (sometimes to the astonishment of other customers), or taking them back to his braiding hook for a lesson. The important factor was, to quote David again, "Our customers are nice people."
In the last few years of his life, David was challenged first by Alzheimer's disease and later by a stroke. Through determination and hard work, David regained enough strength after his stroke to enjoy walks through the neighborhood. With the gradually increasing challenges from Alzheimer's, he was hard pressed to remember what he ate for breakfast, but still did contribute to our business with historical information and logical analysis on his good days, right up to the last week of his life. An example of the help he provided recently is a discussion of whether or not to drop a brand we had carried successfully for years. The pricing and availability considerations had changed, and although we had a loyal customer base, and could have kept on with the products, we knew our customers could obtain the same products more cheaply, and just as easily, elsewhere. David did not hesitate, just said we needed to drop the line as we couldn't provide good value to our customers.
As a husband, father, mentor, colleague, entrepreneur, teacher and friend, David will be missed. We celebrate his life and his contributions to our family, our business and the many other lives that he touched.
Dorothy Morgan
Olwen, Barbara, Meredith and Will Morgan