Will and Mike made another journey to Denver for the annual Western and English Sales Association convention. The largest trade show of its kind, it features hundreds of vendors purveying equestrian-themed items. From western rodeo and dressage to everyday items such as clothing, boots and jewelry, everything is on display.  
For five days, people from around the world descend upon Denver to see the latest products each vendor has to offer. This coincides with the Stockman's Show, which attracts more of the Western crowd.
It was fun to meet old friends and be part of the spectacle.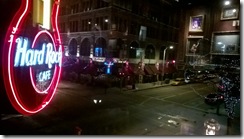 View of downtown Denver looking out from the Hard Rock Cafe.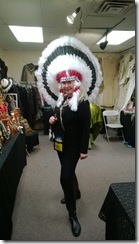 One of our neighbors sporting her new head dress.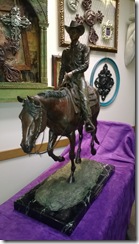 Beautiful bronze sculpture of the cowboy lifestyle.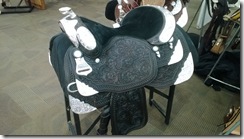 Beautiful show-quality leather saddle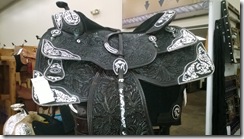 Closer view with more details of the exquisite tooling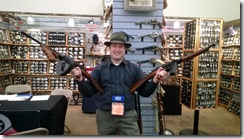 Mike has some fun with the replica gun dealers