Are you texting in the January cold with bare fingers? Perhaps you've tried using a pair of gloves and your text messages aR_ turN*73(GA INT)… well, you understand.
We have the solution here at David Morgan. Keep your hands snug with a pair of our Fingerless Possum Gloves, and keep your fingertips free.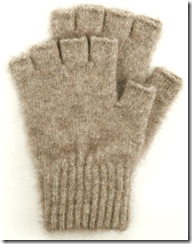 Our gloves come in natural and charcoal. They work great in cold offices, too. Your fingers won't cramp on the keyboard.
LEARN MORE ABOUT: