Last fall we posted that Oprah would take an adventure to Australia. (See below.) We speculated that she was wearing a Cattleman.
Recently the Washington Post spotted her with Ralph Lauren at his ranch in Telluride, Colorado. She is indeed wearing a Cattleman. The color is regency fawn.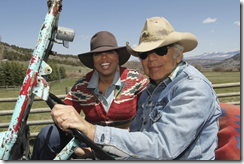 Original Post From Last February:
This December Oprah will go on an adventure to Australia with 300 of her fans.
We're sure she'll have a great trip, after all, she's already got her hat. Speaking of hats, is that an Akubra Cattleman that she's wearing?
Update:  See more photos from Hat Life.