David Morgan is pleased to offer two additional hats from Tilley: the Airflo Hat and the Airflo Hat with Neck Protector.  Both are crushable and packable and will not shrink.  And, like all Tilley hats, they are guaranteed for life. 
Designed for hot weather, they are certified with a UPF of 50+, the highest UV protection rating given.  But don't think of these hats only for sun protection.  Their water resistance makes them great rain hats.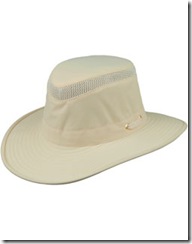 The Airflo has a 3/4 inch mesh in the crown that helps you remain cool and comfortable.  At four ounces, you'll forget it's on, even in hot weather.  The hat is made of Nylamtium fabric, a strong water and mildew resistant form of nylon.  Colors are Natural with Green under-brim or Khaki with Olive under-brim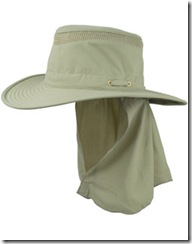 The Airflo Hat with Neck Protector has all the advantages of the Airflo with two additional features: a tuckaway neck protector and Insect Shield® protection. Wear the neck protector loose over the shoulders or Velcro it under the chin.  The protector can be tucked under the back brim.  The odorless and invisible Insect Shield® helps keep biting insects at bay and will keep performing through 70 washings.  Color is Khaki with Olive under-brim.  
LEARN MORE ABOUT: